SRT
Configuration
Open the SRT PersonLarm Konf program.
Connect the SRT to your computer.
From within the program, click the "Read config from unit" button near the top to confirm that the unit is connected.
Choose the Open File/Read Configuration option and select your configuration file.

Once loaded, you'll need to change several parameters:

Under GSM > General > Miscellaneous > Unit Identifier, change the identifier to the IMEI of the device. The IMEI can be found near the bottom of the screen. If not, there is an IMEI? button at the top right.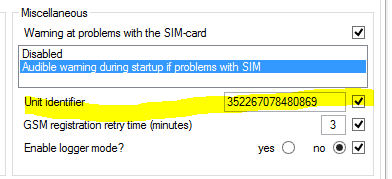 Under GPRS > APN Settings change "m2m.t-mobile.com" or whatever the existing entry is to the APN of your SIM card:

Once changed, click the "Write config to unit" button and wait for a success.
Reboot the terminal and verify that it is operational. It's status can be verified remotely by sending an SMS of: ?POS It should then respond with a SMS with its current position.